THE EUROPEAN ACTION WEBSITE

Established 2005. 'European Action' is a registered trademark TM

We are European Socialists
opposed to both petty nationalism and globalism.
Europe awake and throw off your chains.
Build a new system based on social justice.
We are the Only Real Alternative to Global Capitalism,
Debt Slavery and the International Predatory System of Usury
By email - contact the editor, Robert Edwards, here
or by phone 01843 580854
mobile 07814946629
Link: Europe a Nation blog with more articles from European Socialist Action. Click here.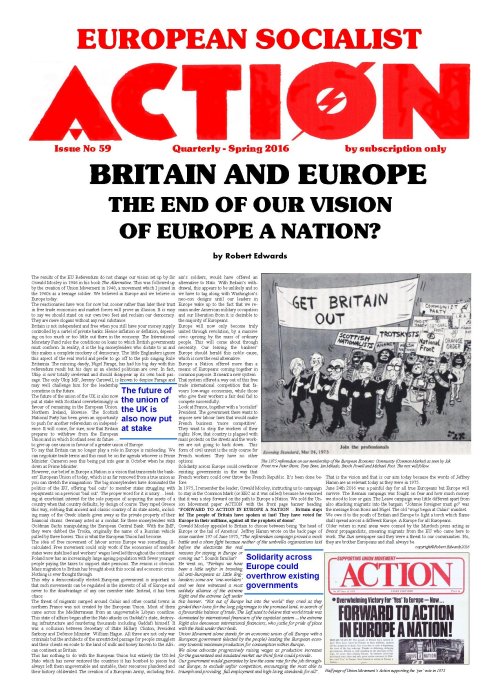 Visit The European Politics Forum

PLEASE NOTE: THOUGH THE TITLE OF THE PAPER IS NOW EUROPEAN SOCIALIST ACTION WE, AS A GROUP, ARE STILL TO BE KNOWN AS 'EUROPEAN ACTION' AND SHALL CONTINUE AS SUCH INDEFINITELY. 'EUROPEAN ACTION' IS A REGISTERED TRADEMARK.
IN THE CURRENT ISSUE OF European Socialist Action No 59 (Spring Issue 2016)
BRITAIN AND EUROPE: THE END OF OUR VISION OF EUROPE A NATION? by Robert Edwards

EDITORIAL: WHY THEY VOTED TO LEAVE
OY VEY ... THEY'RE EATING PORK PIES IN GOLDERS GREEN by Robert Edwards
SCAPA FLOW (part one) by John Roberts, our culture correspondent
DONALD TRUMP FOR PRESIDENT? by Robert Edwards
BOOK REVIEW: JOHN BEAN'S TRAIL OF THE VIKING FINGER

IN MEMORIAM: JOHN ROBERTS' FATHER AND PETER KENDALL
A LIVELY LETTERS PAGE


STILL AVAILABLE FROM EUROPEAN ACTION
Two page A3 size pull-out on an anti-British fanatic who told The Sun newspaper that he would rather employ a paedophile than a British ex-serviceman. Free on request.